Posts Tagged 'Camera'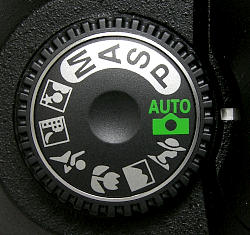 Cameras are wonderful objects with a all the assortment of wonderful features. In order to get the best from your camera it becomes important that you know what your camera features. Every time I discovered the usage of some new feature on my camera and told my mother about it, she used to say, 'That's why i always tell read the manual first'. So here is a sort of basic manual about the different kinds of shooting options available in almost all the digital cameras.
Broadly classifying, there are two categories into which the camera modes can be put under. Automatic and manual. As the words go, those modes that come under the automatic mode are preset to perform certain functions and you will have nothing to do with the controls whereas those modes that come under the manual include some or almost all controls requiring adjustment by you.
Automatic Modes:
Automatic Mode
I suspect no one will need any introduction to this mode (as it seems everybody use this to the maximum extent). Auto mode tells your camera to use it's best judgement to select shutter speed, aperture, ISO, white balance, focus and flash to take the best shot that it can. With some cameras auto mode lets you override flash or change it to red eye reduction. This mode will give you nice results in many shooting conditions, however you need to keep in mind that you're not telling your camera any extra information about the type of shot you're taking so it will be 'guessing' as to what you want. As a result there might chances when you wanted to focus on one thing but the camera had a mind of its own, where you wanted twilight, the camera thought ambient light better and so on.. Having said that, you would only be a fool to not use it at all, for in times of urgency, you wouldn't have time for all the settings and by the time you are done, the shot is gone.
Portrait Mode
What the portrait mode does is, it sets a large aperture(small number, in case you find the terms confusing) which will help to keep your background out of focus, thus giving attention to your subject. This mode works best when you're photographing a single subject so get in close enough to your subject so that your photographing the head and shoulders of them. Also if you're shooting into the sun you might want to trigger your flash to add a little light onto their face.
Macro Mode
How many times have you tried to shoot a heavy close up shot and found that the focus wasn't as you wished it to be. Macro mode lets you move your closer into your subject to take a close up picture. It's great for shooting flowers, insects or other small objects. When you use macro mode you'll notice that focusing is more difficult as at short distances the depth of field is very narrow (just millimeters at times). Keep your camera and the object you're photographing parallel if possible or you'll find a lot of it will be out of focus. You'll probably also find that you won't want to use your camera's built in flash when photographing close up objects or they'll be burnt out.
Landscape Mode
This mode is almost the exact opposite of portrait mode in that it sets the camera up with a small aperture (large number) to make sure as much of the scene you're photographing will be in focus as much as possible. It's therefore ideal for capturing shots of wide scenes, particularly those with points of interest at different distances from the camera. As it uses a small aperture, you might also want to use this feature to shoot images in which you want the whole of picture in sharp focus.
Sports Mode
Photographing moving objects is what sports mode is designed for. It is ideal for photographing any moving objects including people playing sports, pets, cars, wildlife etc. Sports mode attempts to freeze the action by increasing the shutter speed. When photographing fast moving subjects you can also increase your chances of capturing them with panning of your camera along with the subject and/or by attempting to pre focus your camera on a spot where the subject will be when you want to photograph it. In other words, you can use this mode for all purposes which need a fast shutter speed.
Night Mode
Probably the most innovative of the automatic modes, this is a really fun mode to play around with and can create some wonderfully colorful and interesting shots. Night mode (a technique also called 'slow shutter sync') is for shooting in low light situations and sets your camera to use a longer shutter speed to help capture details of the background but it also fires off a flash to illuminate the foreground (and subject). If you use this mode for a 'serious' or well balanced shot you should use a tripod or your background will be blurred – however it's also fun to take shots with this handheld to purposely blur your backgrounds – especially when there is a situation with lights behind your subject as it can give a fun and experimental look.
Movie Mode
This mode extends your digital camera from just capturing still images to capturing moving ones. Most new digital cameras these days come with a movie mode that records both video but also sound. The quality is generally not up to video camera standards but it's a handy mode to have when you come across that perfect subject that just can't be captured with a still image. Keep in mind that moving images take up significantly more space on your memory storage than still images.
There might be those other modes too, such as sunrise mode, sunset mode, fireworks mode, snow mode, food mode etc. etc.
Semi-automatic Modes: What they basically do is, give you control on a certain feature and adjust the other features accordingly. Semi-automatic coz, in spite of having some control, you still don't actually control the exposure.
Aperture Priority Mode
This mode is really a semi-automatic mode where you choose the aperture and your camera chooses the other settings (shutter speed, white balance, ISO etc) so as to ensure you have a well balanced exposure. Aperture priority mode is useful when you're looking to control the depth of field in a shot (usually a stationary object where you don't need to control shutter speed). Choosing a larger number aperture means the aperture (or the opening in your camera when shooting) is smaller and lets less light in. This means you'll have a larger depth of field (more of the scene will be in focus) but that your camera will choose a slower shutter speed. Small numbers means the opposite (ie your aperture is large, depth of field will be small and your camera will probably choose a faster shutter speed).
Shutter Priority Mode
Shutter priority is very similar to aperture priority mode but is the mode where you select a shutter speed and the camera then chooses all of the other settings. You would use this mode where you want to control over shutter speed (obviously). For example when photographing moving subjects (like sports) you might want to choose a fast shutter speed to freeze the motion. On the flip-side of this you might want to capture the movement as a blur of a subject like a waterfall and choose a slow shutter speed. You might also choose a slow shutter speed in lower light situations.
Program Mode
Some digital cameras have this priority mode in addition to auto mode (in a few cameras Program mode IS full Auto mode… confusing isn't it!). In those cameras that have both, Program mode is similar to Auto but gives you a little more control over some other features including flash, white balance, ISO etc. What it basically has is some pre-determined exposure programs. A certain aperture value with a certain shutter speed. There are different combinations available for choice of your liking.
Manual Mode:
Manual Mode
As the name goes, in this mode you have full control over your camera and need to think about all settings including shutter speed, aperture, ISO, white balance, flash etc. It gives you the flexibility to set your shots up as you wish. Of course you also need to have some idea of what you're doing in manual mode so most digital camera owners that I have anything to do with tend to stick to one of the priority modes.
This is in brief what the camera mode does. Even though your camera does not feature manual control, you could use the automatic modes to your advantage. For example where you need shallow depth of field, you could use the portrait mode, while a wide depth of field would mean landscape mode. If you wish for fast shutter speeds, you could go for sports mode, while for slower ones you could go with the night mode. Thus its about using the control to your advantage that matters in the end. You could even get wacky and try different moods for different other purposes and see the effect they bear on your final image.
Hope the next time you are out shooting, you will find these modes more flexible to use and end up giving you better shots. Until next time, enzoi shooting.
What does one require to be a photographer? A camera, an eye and a finger.
Its as simple as that. All you need to create photographs is a camera. With the advent of competition, there are various companies in the market which produce digital cameras with various controls functions and all the stuff. So for a person who wishes to take up photography the first problem comes in the form of the choice of camera model. To make it easy, here are a few notes to consider:
– Budget: Its a key and plays a major role in the choice of model. In other words it helps cut down the choices to a minimum. So if my budget were to be rs.10,000 I would not be required to look at cameras costing above it. Hence the first step in deciding on a camera is to fix your budget.
– Requirements: Once the budget is set, decide on what you require. In today's competitive market, the cameras are filled with so many options, most of which you may not need or never use. So deciding on your requirement becomes quite important.
1) Control: The amount of control that you wish to have helps cut down your choices by more than half. If you wish to take up fine art photography, then you will require manual controls such as aperture priority, shutter priority and full manual mode in your camera. Most of today's point and shoots dont offer manual control so you might need to search for the one that does.
2) Genre: You would probably not know what interests you right now, but know it could help in the choice of your camera.
3) Usage: Today most of the camera come with Li-ion batteries which have longer life as compared to the AA where in you will be required to have back-up. So if you intend to shoot for longer period choose the ones that use li-ion battery. Having said that AA is nowhere a don't pick choice. One of my favourite point and shoots canon Sx120IS uses AA and the back-up is pretty good.
4)Brand: Strictly speaking its not an option, but liking towards certain brands can definitely have a say on your choice of model. Say, you need manual control, the nikon coolpix doesn't have any model which offers it, so you will be required to look out for canon or fuji or some other brands which do.
The best camera: How many times have you felt that moment when you thought, I wish I had my camera right now. There isn't a single day when I don't feel it (Don't judge me by that statement. We will deal with it some other day). Its of no use if you have the best in the field when you hardly take it out. The best one is the one which suits your style and more importantly the one which you bother to take along with you almost everywhere. There is no reason the tiny camera in your cell phone could not be the best one for you. As the famous saying goes, It ain't the camera, but the man behind it that matters. (women folk, no offence, you are included in it. *wink*)
Here are a few cameras reviewed as best in their range by the team of BETTER PHOTOGRAPHY.
– Below Rs.20,000
1) Fujifilm FinePix AV100 – Rs.4,499 (12.2MP)
Who: Casual users and families who want to shoot a lot of video too.
2)Canon PowerShot A495 – Rs.4,995 (10MP)
Who: For hobbyist and families who are tight on budget.
3) Sony Cyber-shot DSC-H55 – Rs.14,990 (12.1MP)
Who: Point and shoot users who do not need manual control, but want a fast AF system and great image quality.
4) Fujifilm FinePix JZ300 – Rs.9,999 (14MP)
Who: Serious hobbyists who want an all-in-one budget camera.
5) Fujifilm FinePix S2500HD – Rs.14,999 (12.2MP)
Who: Those who want extra zoom but do not mind carrying some extra weight.
6) Samsung WB650 – Rs.17,990 (12MP)
Who: Travel enthusiasts and wanderers.
7) Sony Cyber-shot DSC-TX7 – Rs.17,990 (10.2MP)
Who: Fashion-conscious youngsters who love to shoot video and panoramas.
8) Fujifilm FinePix F80EXR – Rs.17,999 (12MP)
Who: Hobbyists who want the advantages of a compact body, but need better results in contrasty light.
9) Olympus STYLUS TOUGH-8010 – Rs.18,995 (14MP)
Who: Adventure enthusiasts who indulge in a lot of trekking, mountaineering, rafting or swimming.
– Rs.20,000 – Rs.50,000
1) Fujifilm FinePix F300EXR – Rs.20,999 (12MP)
Who: Enthusiasts who want the flexibilty of zoom with the advantages of the EXR sensor.
2) Canon EOS 1000D (Kit) – Rs.25,295 (14.2MP)
Who: Advanced amateurs who on a tight budget.
3) Canon PowerShot S95 – Rs.26,995 (10MP)
Who: Pros who want a pocket-able camera that produces high-quality images.
4) Nikon D3100 – Rs.27,250 (14.2MP)
Who: Anyone who needs a fantastic entry-level DSLR for shooting stills and video.
5) Canon PowerShot SX30IS – Rs.28,995 (14.2MP)
Who: Wildlife lovers who do not mind compromising on quality for additional zoom.
6) Olympus PEN E-PL1 (Kit) – Rs.29,995 (12.3MP)
Who: Those who need superb, high-quality photos but do not like the bulk of a DSLR.
7) Panasonic LUMIX DMC-FZ100 – Rs.34,990 (14.1MP)
Who: Those who want a super zoom camera with every possible still and video frame.
8) Sony Alpha NEX-5 (Kit) – Rs.34,999 (14.2MP)
Who: For those who want an efficient still-video DSLR in a small size.
9) Fuji Real 3D W3 – Rs.39,000 (10MP)
Who: Those who are willing to pay a premium to use 3D technology.
10) Nikon D90 – Rs.43,450 (12.3MP)
Who: Serious hobbyists who lay equal emphasis on both handling and performance.
11) Canon EOS 550D – Rs.45,295 (18MP)
Who: Pros who need a light backup body and film-makers.
12) Sony Alpha 55 (Kit) – Rs.49,990 (16.2MP)
Who: Anyone who wants to shoot high-quality action photography on a budget.
– Rs.50,000 – Rs.1,50,000
1) Canon EOS 60D – Rs.65,295 (18MP)
Who: Film-makers who want tilt-and swivel LCD for shooting videos.
2) Nikon D7000 – Rs.74,450 (16.2MP)
Who: Hobbyists who want tons of still and video features, or pros who want an excellent backup body.
3) Canon EOS 7D – Rs.87,995 (18MP)
Who:  Sports and wildlife photographers.
4) Nikon D700 – Rs.1,39,950 (12.1MP)
Who: Pro shooters who want outstanding quality in low light.
5) Canon EOS 5D Mark II – Rs.1,41,995 (21.1MP)
Who: Landscape photographers and videographers.
– Above Rs.1,50,000
1) Canon EOS 1D Mark IV – Rs.2,59,995 (16.1MP)
Who: Sports and action shooters who want the extended reach of a 1.3x sensor.
2) Nikon D3S – Rs.2,89,950 (12.1MP)
Who: Sports photographers, photojournalists and wildlife photographers.
3) Canon EOS 1Ds Mark III – Rs.4,12,995 (21.1MP)
Who: Those who wish to use canon glass to make wall-sized prints, but also need pro-level autofocus and built.
4) Nikon D3X – Rs.5,24,950 (24.5MP)
Who:  Professionals who need to make giant-sized prints with incredible detail.
Having said that, there are other great models out there which you might need to look out before you make your choice.
I hope it helps you choose better. In case you have any queries kindly contact me so that I can be of some help.
Get that camera ready so that we can get down to some shooting stuff soon.