The year that was – 2014
Isn't it a little too late to be talking about 2014 when we are already into the third month of the new year? I don't think so. Here is why:
– Better late than never. Instead of keeping it as a draft in my mind, I might as well store it in my blog and save some space.
– I am a finance person. FY 2014 is not yet over, so technically, I am writing early and not late.
– I am finance person. Every entity under Companies Bill, 2013 has six months from the end of its financial year to finalize it reports. So even if we were to say its 2014 and not 2014-15, I have six months from December, ie. June 30th would be my deadline and am well within it.
– If you are still looking for more reason, you have something seriously wrong about you that expects you to find reasons behind the timing of a post rather the post in itself. Might I suggest some help?
Let's be honest here. I have no fixed agenda and shall be blabbering to consume the next few minutes of your life. If you have something urgent to attend, you should consider taking care of it. There is nothing here that will turn your life. You can come back later too.
Well, if you are as jobless as I was when I wrote this, then let's spend some time together and try to pretend you care about my past year.
A.C.A : The year 2014 hold a significance in my life mainly because I finally got a degree. Yes, until then I was only a PU graduate and a college drop out pursuing something they called CA. That meant filling the column of educational qualification was somewhat debatable. Anyway, I cleared the last set of papers and can now brag that I am a CA. *It's a different point that people either ask me which year or which college when I tell them that and I have to clarify I have qualified. And no, I stopped giving people gyaan about how we do not have a college and things like that.*
Adieu to Deloitte, Blore: Having finished my CA meant I had completed my articleship with Deloitte. As much as I knew the end was coming, the way the journey ended was somewhat unexpected. I left behind certain desires unfulfilled. That was not how I had anticipated walking away, but sometimes life just makes you take certain paths with no alternatives. The years at the firm was filled with rich experience not just professionally, but personally as well. When I came down to blore in 2011, I only knew I wanted to be a part of Big4. Three years later, I had a lot more.
A new venture: For about half a decade, the concentration was only on finishing the course. Now that the course was completed, suddenly there was lot of new avenues to explore. It wasn't hard to arrive at the decision of practice since it was always the goal, maybe not immediately, but definitely in the short-term. So I became another start-up in the ocean trying to stay afloat.
A new ride: The old bike at home was getting old. I could do with a new ride. moreover, experience with old bikes and blore was enough for once. And wala, I got a new bike.
Then there were other trivial things like India lost, India won. I left Bangalore and returned to Bengaluru. I could go on, but there is only so much tolerance limit each one of us has, so I shall put brakes and get to wrapping it up. And like the sun, it set and the year was over, just like that.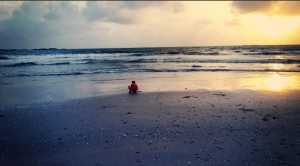 "I was at the mountain. And I was at the valley. And I was at the desert. And I was at the river-bed.
I was washed. And I was dry. And I was dirty. And I was clean.
I walked an ocean. And I walked a river. And I walked the thorns. And I walked the plains.
I walked alone. And I walked together.
And I will do it again…" 
3 Responses to "The year that was – 2014"