ofab: The journey (Part-I)
Prologue:
'Kingfisher airlines wishes to announce the arrival of its aircraft IT2404, going from Chennai to Bengaluru. Passengers are kindly requested to proceed for boarding'.
The last day at the event for me being a sunday, meant I was required to be back at work on the following day, monday, the 6th of June. It was 10.50 in the morning and I was still at the MAA, Chennai. Due to some reason probably something to do with some other flight being delayed  or something, my flight also got delayed, the reason, I was still at the airport, half asleep, half awake waiting for the queue for boarding to get discounted. Half an hour later, I was on board, another few, we were air borne and  another forty minutes later, I was walking back towards the bus shuttle at BLR, a long schedule in store, ahead.
Chapter 1: Bare beginnings
I was back home on study leave. It was just another day of pouring in books, learning new stuff, when my brother found out about this event team force India was up to. As it so happened, the force india driver academy was on a hunt, a hunt for the next driver. The event was called 'One from a billion', where fida planned to bring out the driving talent of the upcoming generation. They had a contest running on their facebook page in search of photographers and blogger to cover their event. So my brother thought it would be a good idea for me give it a try, what's more there was nothing to lose doing it.
A week or two later, one fine night, I got a call, when I was expecting it the least, for something I hadn't given the least bit of thought about. Like in most story penned down, the stars looked down upon me, or should I say, the people deciding the winner looked upon my work to be the one. I didn't know what the contest actually was when I first had applied for it and now, suddenly in the middle of the night, I was made aware of the fact that I was to cover the events taking place in three cities, spanning three weeks, yeah! three long weeks. It dawned upon me that I was a part of the big4 and was currently on leave for my exams. Another leave! I wasn't sure at all. In answer to my first problem, I was told my part of the event happened to fall after my exams. One down. But it still left the second problem. Leave. I explained my concern to the caller and asked if I could be put on hold for the time being so that I could confirm my leave and get back. Sadly, I found it wasn't possible and immediate confirmation was required. I wanted to blast the person for calling me at a time when let alone asking for leave, I could just not call any of my superiors. I didn't do that but told it was quite late and was it possible that we do it tomorrow, again the answer to which was a no. So I ended the call with a is-it-possible-I-get-back-to-you-in-a-while. I tried calling one of my colleagues, but I couldn't get through. So I decided to take my chance, called the correspondent back and confirmed my attendance.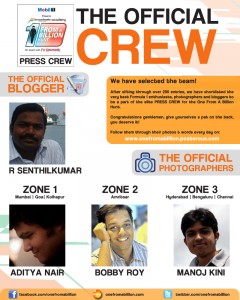 The following weeks went by in the exam preps, yet the nights always gave time to think about the upcoming. I couldn't fathom a way of getting through it. Yet I wasnt going to give it away without trying. A week before exams, I sent out a mail to my manager. Checked the mail each day just to find none. Called up a few days later, but the reply that was supposed to come never seemed to have come. The week that followed saw me busy with exams and I came to thinking about the event just a day before my last paper when it was time to pack, since my last paper happened to come on a sunday and I was required back at work on monday.
Cinematic-ally, I decided to check my mail, one last time, for the reply that was supposedly on its way. It so happened that the mail that was on its way had reached me on the immediate next day following my correspondence. Due to some problem in my outlook, I had failed to get it. Problem two solved.
Exams done. I was on the way to Bengaluru all set for the event.