Uncategorized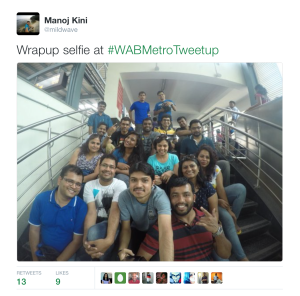 Normally in every tweetup that follows the pioneer tweetup, you will find two co-existing events. One; a tweetup for the freshers. Two; another meetup for the pros. To add some perspective, freshers be like, "Hi, I am Manoj aka @mildwave." And pros be like, "continuing from where we left, in season 13……"
Yes, you figured it right. No, I am not a meetup member. This was probably my first tweetup if you don't count a group of two or three members as a tweetup, coz then I have been in a lot of them. My brother is on twitter, my cousins are on twitter… and we meet up you see.. for chai nashta.. khana..
Last week (read as of sunday, 15th may) I saw a tweet about the #WABMetroTweetup and blindly filled it up. I won't deny the reason I even opened it was because I have a station five minutes from where I live. The concept was hazy at first, c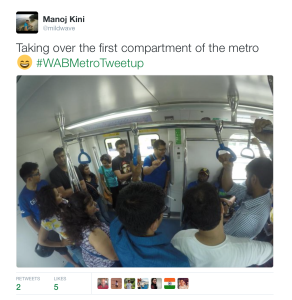 onsidering we could board at any station of our choice. Turned out, we were to meet at one end of the line and would together travel to the other end and then disembark at our respective destinations in the way back. One could say, it has flaws or redundancies or whatever, but I thought it made sense. I joined the
gang at the Vijaynagar station. Finding them was easy, they were on the last compartment and they were live tweeting! Yes, @wearebangalore was now live tweeting, giving a station by station report and of course, if you knew other tweeps attending, they were busy posting the live action as well.
We took a break the Mysore road station for about half an hour while a couple more tweeps joined us and then the party headed back to Byapanahalli to part ways at various stations enroute.
No, I am not giving a detailed description about what happened. You missed the fun by missing the tweetup. But to highlight, among other things, we learnt to spell our respective names through sign language, courtesy Jeroz and we made a lot of selfies.
All said and done, these tweetups are like merely an exchange of visiting cards. The actual conversations are yet to start.
Until next time.
The day for him, 8-May-2011.
A quiet silent beast, absolutely harmless, except for his looks. Of course there is the inherent risk of material mis-statement included, which means unless this post gets audited, I am absolutely 100% safe

Ok. The dude grows old and we find another reason to have some fun. Rather, we dare.
There is nothing to beat the midnight celebrations, but there are some cases wherein you need to take calculative risks and smart that we are, we knew very well to recognize such situations. Not that it could materialize even if we wanted, for we were rotting some place waiting for our chance to accrue the prepaid expense. Anyway by the time we managed to put together a little show, evening was ready to wish us.
We arrive at ground zero led by @nits4ever, yeah he probably thought he was going in for an ambush. The dude is somewhere in the maze, so our captain rings the house siren as if with a high amount of impatience, only to seek refuge when the dude finally lurks out. Formalities become history, the dude sense conspiracy and wishes to finish off the remaining business back inside, but our captain succeeds in luring him out. A landmine look alike stood atop a silver base, decorated with white toppings waiting for it to be cut apart by the dude. Cutting apart aside, the dude finds himself constantly in the look out for the conspiracy he expects. We feel no point in delaying the honor and our battalion launches itself upon him. A brave young lad, dares enough to bring in grenades, white little, fragile ones, and wastes no time in blasting them. Although a little in experienced, he manages to do pretty well by missing only thrice in the process. It is soon followed by a fusillade of chilling liquidized CO2, the last of the weapons. To finish things off, the victory team gets a snapshot.
PS: The brave young lad finds himself threatened for a counter attack of grenades, very soon. The team members thank their stars for not attempting the booting attack:D