That cup of coffee, one evening…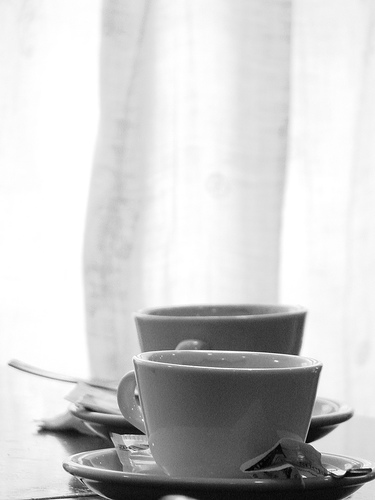 Sitting out in the terrace, I notice that the
clouds have taken over the starry sky, its
thundering, its lightning, but still the rains
for which I am waiting, are yet to be seen.
Slowly I feel a drop of water on my hand
and realise its started to rain. With those
drops of water, my thoughts drifted back
to that cup of coffee, one similar evening.
It was a lovely evening, with everything
prefect about it. The sun was wrapped
cozily, behind the darkest of the clouds,
lousy enough to shower light occasionally.
I was lost in the tune being weaved
by the chirping of the birds, as they
returned back, calling it a day. And
the rustling of the leaves, it created.
I was woken up from the lost world,
brought back into the reality when,
I heard my cell chirping, YOU AND
I, IN THIS BEAUTIFUL WORLD..
I got ready but no sooner did we leave,
it started to rain. Amidst the pattering
rain, I took her to her favourite place,
our favourite place, cafe coffee.
Having ordered our cup of coffee,
we sat back trying to dry ourselves.
The Ac gave a chilling effect but the
coffee contrasted it with its warmth.
We spoke about this and that,
not that it meant anything but
we were speaking something,
which meant we were together.
Every sip of coffee was enjoyed,
every moment, cherished. It was
difficult to say what was stronger,
was it the chill in the air, or love..
All that starts tends to end, so was
with that wonderful evening, With
the cup of coffee now empty and
having paid the bill, we walked out.
The rain had subsided slightly,
but it was still drizzling lightly.
I lifted my face to look at her,
when I heard my phone ringing..
YOU AND I, IN THIS BEAUTIFUL WORLD,
GREEN GRASS, BLUE SKIES, IN THIS BEAUTIFUL WORLD.
YOU, AND I, WINDING LANES, AS STREAMS GO BY,
YOU AND I, IN THIS BEAUTIFUL WORLD,
YOU AND I, IN THIS BEAUTIFUL WORLD.
I notice, I am all alone, my fone,
still ringing. Its no longer raining,
but I am drenched, the memory
still buzzing around in my mind..
That cup of coffee, one evening..
– Nocturnal poet