Dhobi Ghat, a view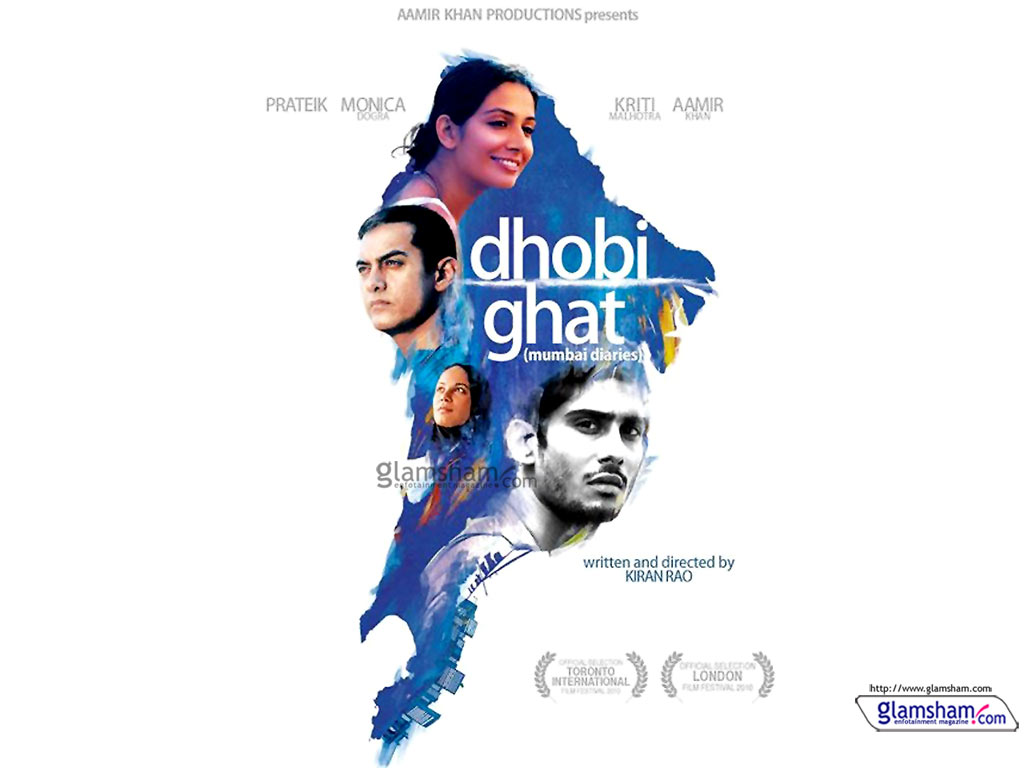 I have been wanting to do this little thing for quite a while now, and I guess I have a beautiful opportunity to do it with the movie, Dhobi Ghat. I wouldn't call it a critic in the least, its nothing more than an opinion, better put, my take on the movie. I don't believe in the star stuff, so there ain't going to be any stars, just plain bland text to bore those who are free enough to read further. So here goes…
I landed up for the movie on the last day of its running, the thursday for a morning show, which meant I gave up some of my precious sleep for the sake of it. Not that I was disliking it or something, I did want to watch the movie anyhow, but you know, just for the sayings sake. Ok, whatever, the theatre was more than almost empty, but for we few people and that said something. I took a seat and as if on cue, the movie began.
Its a movie involving three characters, well no, there is another in fact, uh, as an after thought everybody is a character in it! Well, whatever. It begins with an art exhibition where one of the character Arun (Aamir khan), a heavy smoker, an artist, who happens to be a silent sort of person,  prefers to stay away from his own exhibition crowd ( err.. why would you want to exhibit, if you didn't want to interact? Ah, money.. but you could get it by selling without an exhibition too, no? whatever) and as a result happens to meet the other character Shai (Monica Dogra), an investment banker type who comes down to India to pursue her interests in photography, and things happen over night, and morning sees her being dumbed already (it wasn't all that literal as the way it sounds, well the jist was that) She then finds a dhobi, the third character, Munna (Prateik Babbar), who literally turns out to be her guide. He happens to nurse a dream of becoming an actor and hence asks her to shoot a portfolio of his. While she goes on about shooting mumbai, this artist fellow happens to shift his house into a new area and finds some tapes, featuring a depressing story filmed by Yasmin (Kriti Malhotra) narrating her life story and the place, mumbai. That's about the ingredient part. For the salad, all you need to do is toss it up, well and good. Enzoi 😛
I don't think I made much sense there, but well, the movie was only that much and some little make-up, if you know what I mean. For the first half an hour or so, I didn't know what to expect of the movie and was deciding on my options, sleep or walk out! The music that inspired Arun to paint somehow seemed very disturbing to me, probably because I was already confused and it only added to it. I decided against both options and I chose well. I liked how the video had a sort of retro feel and the wonderful rural Mumbai showcased made it the buck's worth. The black and white stills showcased included some marvellous shots and as a person interested in photography, it was a point of light to me.
Apart from that, the story actually doesn't lead anywhere, if that's what you were looking for. Its only of those unconventional movies where you have a story despite not having one. Its about those people whom you meet accidentally, spend some time along with, and move on. Those little, unconventional moments is what makes the movie stand out for me. To each his opinion, I would probably expect a mumbai-kar to feel he has wasted his bucks and the more precious time. Even the non-mumbaikars might feel so, for there isn't the conventional ending that you have in other movies. But for those others like me, you will like it!
Everything apart, Prateik does well in his role as a dhobi, rat-killer and guide. Aamir as ever gets on with his role like being his very self. Monica did her job well, except for the part of dubbing her dialogues. Her first time you see, so a little lag, well.. happens.  Kriti does her job well enough for a person shooting mumbai for the first time 😉
The movie itself ran only for 95 mins, so you can't expect me to go on and on..
Let me know what you thought of it, if you dared to watch it in the first place, of course!